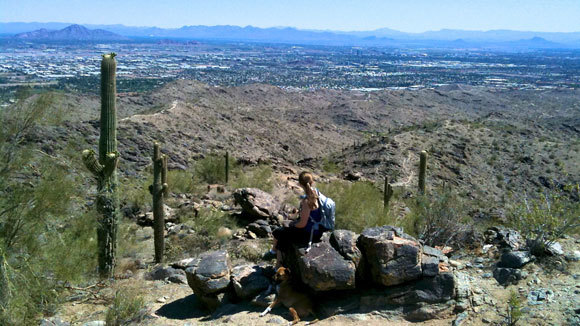 First off I want to mention that this trail isn't really a legitimate trail, and therefore the name isn't official – but it's something my friends and myself have given it over the years. It starts off on the east side of South Mountain from Desert Classic and goes up and back towards the Antenna Array. I took the girls (Amy and Jinx the dog) out to intro them to this trail that we used to run. We went about 85% of the way back and turned back but… for reference; my friend Kyle and me used to run this same route; and we did it in under 36 minutes. Seems damn fast considering the terrain – but that's back when I was kind of in shape lol – can't touch those times these days.
Run / Hike Telemetry


this hike including gpx data and larger map here on everytrail
The cool thing with this route is there is hardly anybody on it and the ones that are seem to be athletes training on the hills or serious hikers. Either way it's a tough run and a good hike. One of my fav's.